818人
已閱讀
工商管理博士課程 DBA
來源:專才培訓協會PTA 類別:
涵接大學課程
發佈時間:2019-10-09
大學簡介
美國管理科技大學 (簡稱 UMT)是美國維吉尼亞州高等教育委員會 (State Council of Higher Education of Virginia (SCHEV) 正式授權進行高等教育的正規高等學府。大學校舍位於美國首都華盛頓地區,坐落在繁華的羅斯林商業區,畔臨著美麗闊靜的波多馬克河,與古老悠久的喬治城隔河相望。UMT在香港舉辦工商管理學士、碩士及博士課程,頒發的學位證書與美國在校學習頒發的學位證書具有同等資格和效力
香港教育局非本地課程註冊
* Doctor of Business Administration DBA Program (Registration no. 261996)
* Master of Business Administration MBA Program (Registration no. 261825)
* Bachelor of Business Administration BBA Program (Registration no. 261639)
香港教育局註冊課程表:
http://www.edb.gov.hk/index.aspx?langno=2&nodeID=1438
About UMT
The University of Management and Technology (UMT), chartered by the State Council of Higher Education of Virginia (SCHEV), is an university located in downtown metropolitan area in the Washington D.C. of Virginia State, USA. UMTs campus is located in proximity to the White House and Pentagon building. UMT provides Doctorate, Master and Bachelor degree programs and professional development programs to American, Hong Kong and international students in field of modern management and technology.
Hong Kong Education Bureau Registration
* Doctor of Business Administration DBA Program (Registration no. 261996)
* Master of Business Administration MBA Program (Registration no. 261825)
* Bachelor of Business Administration BBA Program (Registration no. 261639)
Doctor of Business Administration (Hong Kong EDB Reg No. 261996)
The UMT DBA is a practice-oriented, high-level professional doctorate program designed for senior executives who intend to expand their knowledge, skills, and abilities to the fullest extent possible. A combination of coursework and research-based program is used to equip graduates with an understanding of modern management thought, as well as a theoretical and philosophical understanding of business administration principles and practices.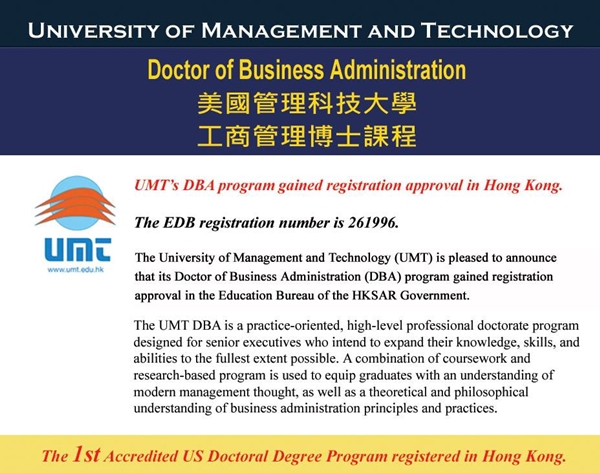 DBA Seminars are offered in weekends for DBA students and the program can be completed in 3 years part time study. Of course, the actual duration may vary depending on the dissertation topic selected and on the time and effort devoted to the work by the student.

Courses
Credits
Months*
MGT 310. Analytical Techniques in Research
6
1 to 3
MGT 320. Philosophical Foundations of Knowledge & Research
3
1 to 4
MGT 350. Evolution of Management Thought
3
5 to 7
MGT 355. Management as a Behavioral Science
6
5 to 8
Qualifying Examination
8
MGT 358. Current Issues in Management
3
8 to 11
MGT 359. Managing Modern Business Operations
3
8 to 12
MGT 360. International Management
3
8 to 13
MGT 395. Technology, Innovation, and Entrepreneurship
3
14 to 17
MGT 398. Directed Research and Readings

6
14 to 18
MGT 420. Special Topics in Research
6
19 to 22
Proposal Defense
22
MGT 365. Economic and Financial Theory
3
22 to 25
MGT 366. Leadership and Ethics
3
22 to 26
MGT 368. Business-Government Relations
3
22 to 27
Comprehensive Exam
27
MGT 499. Dissertation Research
9
27 to 36
Dissertation Defense
36
Graduation
60
3 Years
* Duration may vary depending on the dissertation topic chosen by the student and the time devoted to it.
Course Description
Duration of Study:
Could be completed in 3 years

Entry Requirement:
The admission requirements are as follows:
Holder of Master degree with the minimum GPA of 3.0 from a recognized university.
Demonstrated proficiency in English
Other equivalent qualifications to be assessed by UMT.


Contact us:
Program Manager
Telephone: (852) 2791-1155
Fax: (852) 3007-4599
Email: admin@umt.edu.hk


香港教育局註册课程表: https://applications.edb.gov.hk/ncr/ncr_detail.aspx?langno=2&regno=261996